Kedarnath Bhattacharaya (born 20 October 1957), better known as Kumar Sanu, is a leading Bollywood Indian playback singer. He is famous for singing thousands of Bollywood songs.
Kumar Sanu was born as 'Kedarnath Bhattacharya' on 23 September 1957 (age 61 years; as in 2018) in Kolkata.
He did his bachelors in commerce from Calcutta University. He got training in the Indian classical music and Tabla from his father.
Physical Appearance
Height (approx.): 5′ 11″
Eye Colour: Brown
Hair Colour: Black
Family, Caste & Wife
Kumar Sanu belongs to a Bengali family. His father Pashupati Bhattacharya was a vocalist and composer.
His father got training in music from Jiban Upadhyay and Bishodeb Chattopadhyay. His brother's name is Tapan Bhattacharya and he has an elder sister named Jayshree Mukherjee. Kumar Sanu got married to Rita Bhattacharya in late 1980s.
Kumar Sanu found himself attracted to the leading actress of that time, 'Meenakshi Seshadri.' Later, it was confirmed by his secretary that Meenakshi and Kumar were in a relationship.
He got divorced from Rita Bhattacharya in 1994 when she found out about his affair with Meenakshi. He has three sons from Rita, one of them is Jaan Kumar Sanu (Jico). Jaan is also a singer.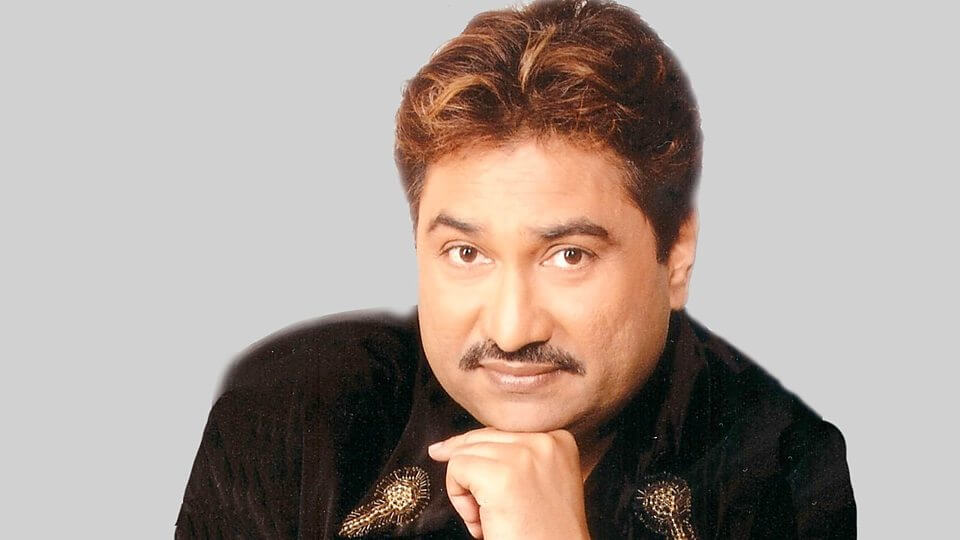 Kumar Sanu got married to Saloni Sanu, and the couple has a daughter named Annabel K.
Career
Kumar Sanu started his career as a playback singer as Sanu Bhattacharya in a Bengali movie titled "Tin Konya (1986)."
He made his Bollywood debut as a singer with the song "Jashna Hai Mohabbat Ka" from the movie "Hero Hiralal" in 1989.
Controversies
Kumar Sanu won the Filmfare Award for the best playback singer male for the 5 consecutive years (1990-1994). When he received the award for the fifth time, he said,


I'd be happy if someone else won it the next time."

However, his statement created a huge controversy. People thought that he did not want to receive the Filmfare. As a result, it was believed that he did not get the award for the song "Tujhe Dekha To Yeh Jaana Sanam," next year. Though, the song was the chart-topper of the time.
In spite of being married to Rita Bhattacharya, he was in a relationship with the actress Meenakshi Seshadri. The duo was seeing each other secretly until their relationship was uncovered through an interview that Kumar's secretary had given. Kumar denied his relationship with the actress, but eventually, accepted it, which led to an ugly spat between him and his wife Rita. Finally, they got divorced in 1994. Rita got the custody of their three sons, but Kumar accessed the rights to his children by agreeing to pay her a fix allowance every month.
Awards, Honours & Titles
Honorary doctorate from the University of America in 2001
Kumar Sanu Day on 31 Mach, honoured by Michael R. Turner, the mayor of Dayton, Ohio, the US in 2001
Dr Ambedkar Award in 2012
Maharashtra Ratna Award by Government of Maharashtra in 2014
Mahanayak Samman Lifetime Achievement by Government of West Bengal in 2014
Sangeet Samman Lifetime Achievement Award by Government of West Bengal in 2015
Felicitation at the UK Houses of Parliament by Indo-British All Party Parliamentary Group in 2018
Facts
His family is a great devotee of Lord Shiva. Hence, his family gave him the name "Kedarnath" (another name of Lord Shiva).
Since his childhood, he was interested in music. He would sing while playing the tabla and his friends used to make bongo of milk cans. He called it, "Gareebon Ka Orchestra" (Orchestra of the poor).
His older brother and sister were a part of an orchestra and Kumar later joined them as a rhythm player.
Like him, his father was also a good singer. He would often listen to his father singing in the night. Talking about how he got interested in music, he says that initially, he was never interested in music. He adds,


He had a school and every year during Saraswati Puja, all the children would sing. Towards the end of the function, we would insist our father to sing and that's what impacted me in a big way. Every night when my father sang at home, there was a small mike that he would sing into and the entire mohalla would hear him sing."

He began performing publicly in 1979, he used to sing in shows and restaurants. His first job was at Hotel Vineet in Kolkata. His first salary was Rs. 4000. Recalling those days, he says that a Samosa used to cost Rs. 180 at the place where he worked.
He borrowed Rs. 1100 from his elder brother and came to Mumbai in 1986, with a dream to become a singer. In Mumbai, he stayed in Vashi with a few friends.
While in Mumbai, he gave audition at Aradhana guest house in Chembur. He sang in front of a huge audience, the first song he sang was "Mere Naina Saawan Bhaado" and got a tip of Rs. 9000. For his second song, he got a tip of Rs. 5oo0. After that, he was immediately selected for the job. Kumar worked there for a year.
Later, he started making his living in Mumbai by recording a series of Kishore Kumar's song for the pop labels.
When he was recording Kishore Kumar's songs, he happened to meet Jagjit Singh by chance, who was recording his Ghazals in the same studio. Jagjit Singh insisted on meeting Kumar and asked him to sing a song. He sang "Mere Samne Wali Khidki Mein" by Kishore Kumar. He gave him a song on paper and asked him to learn it. Kumar learned the song in just 5 minutes and recorded it in only 15-20 minutes. Jagjit Singh hugged him and gave him Rs. 1500.