Jenny Johal was born on 18-04-1993 in Jalalabad in the state of Punjab, India. She is an Indian Singer, Playback Singer, Model & Film Actress wh is known for her work in Punjabi cinema.
Jenny Johal is a Punjabi Singer Who debut her Career with Song Yaai jatt di. She becomes super star with her debut song Yaai jatt di which got three million views on YouTube. All of her songs are written by Bunty Bains.
Jenny johal is a born singer. She was singing from the age of four. Her grandfather joga singh and her father are famous Kavishr. In earlier days she had sung Punjabi Kavishri.Jenny is very talented artist. She can play a number of music instruments like guitar, harmonium, sargi, dhadh etc.
Career: Yaai jatt di is the first song of Jenny johal. She was trying her luck but was not getting a chance to prove herself, but in 2015 her mother got the mobile number of Bunty Bains the very famous writer of Punjabi music industry. Bunty Bains told her mother to send a voice clip along with a photograph of Jenny. Bunty also told her mother that if she is a photogenic face then he will definitely produce a song for her. Finally Bunty Bains liked her voice and look and Jenny got her first song Yaari jatt di.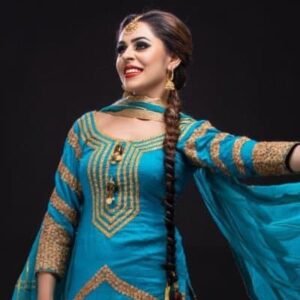 Bunty Bains advised her to sing a hip hop type song along with a good dance performance which nobody have tried in Punjabi music industry.bunty was trying to do something new with Jenny johal.she has received Best Debut Vocalist (Female) award for her debut song "Yaari jatt di".
Apart from single tracks jenny has sung a song Dowein Nain in Punjabi movie Love Punjab. Music of this song is composed by Jatinder Shah with lyrics written by Bunty Bains.
She is the first singer in Punjabi music industry who has sung a song on "Chandigarh".
Jenny johal always dream to become a super star singer. Bhupinder Singh is Guru Ustad of Jenny Johal. She is learning music from her childhood days.
Jenny johal is youngest kid of all her parents. jenny's mother is a principal. Johal shares a close relationship with her family. There are five members in her family Father, Mother, Brother and Bhabi .She lives with her family in jalandhar. Jenny's Mother always accompanies her. Even Jenny's costumes are designed by her mother. Jenny Johal is not married and she does not have any plan to start a family in near Future.
Facts
Jenny is Indian professional Punjabi singer. She came into limelight after her debut song 'Yaari Jatti Di' feat Bunty Bains. Then she released many songs like Hooters, Narma, Mutiyaar Jatti Di, Yeh Kasoor before singing Dowein Nain.
Today she is more famous on social media. She won the heart of lot of her fans with her last sad song "Dowein Nain" from the movie Love Punjab.
Jenny johal's home town is jalandhar. She got her schooling from jalandhar. Jenny was good in academics. She used to participate in Dance, singing debate competitions.